Being the fifth fastest-growing online dating app market in the world, India has many dating app users who do not mind shelling money out of their pockets to find love. But is it working for them?
It can be tough to find love, and many people feel desperate to find a partner these days. With online dating, it's easier than ever to connect with potential matches, but it can also feel like a race to find someone before it's too late. The swipe culture can make it feel like we need to find the perfect person ASAP, which can lead to a sense of constant searching and anxiety about being single forever.
Well, have you ever thought about using a hotel booking app to find love? Some people may find it interesting, while others will find it absurd. We at Brevistay used this unusual idea to create an elaborate prank for our users. How? Let's find out.
Brevistay's April Fools' Prank
We specialize in providing travelers with a seamless hourly hotel booking experience with flexible check-in options. Users can easily search for hotels based on their preferred location, price range, and amenities. Brevistay prides itself on its commitment to providing its customers with the best possible experience for couples, friends, or individuals looking for some privacy and ensuring that they find the perfect hotel for their needs.
Brevistay recently launched a super cool dating app that lets users find their perfect match through hotels! It was so easy to use also – all you had to do was pick a hotel you liked and fill out your interests, and voila, you'd be presented with your ideal match. And guess what? Brevistay even offered to pay for the stay, making it seem like the perfect date!
The app gained tons of popularity, and people were so excited to try it out. It was such a fun and unique way to meet potential partners. Some users even had great dates at amazing hotels!
But on April Fool's Day, Brevistay revealed that it was all just an elaborate prank! The "match" that users were presented with was actually an artificial person made using AI. Although some users may have been disappointed, it's important to know that Brevistay takes privacy and consent seriously.
Our Prank
We recently ran a prank on our App where we added a dummy dating product on our product home page and the results are as follows:
90% of male users fell for it. Which includes your truly😊
While only 10% of the female users fell for it. (Girls have a very strong sixth sense)
But curiously, and this is very interesting 90% of the male users of fell for the prank did not initiate any conversation with their respective dummy matches.
Sharing the prank screens below for you to ponder over: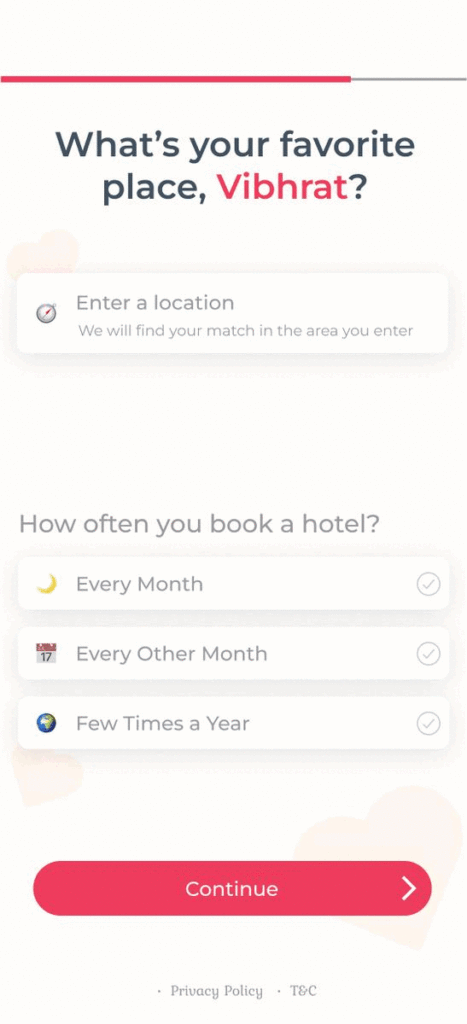 Brevistay's Commitment To Privacy and Consent
In today's world, where more and more people are turning to online platforms to connect with others, it's vital to prioritize privacy and consent. With the vast amount of personal information people share online, individuals must be aware of who they're interacting with and what they share. Privacy and consent are essential to ensure that individuals are safe and their personal information is protected.
Brevistay takes privacy and consent incredibly seriously. We have strict policies to ensure that users' personal information is protected and their consent is obtained before sharing any information. Brevistay would never share any users' information, and they can only provide a stay, not a partner. This commitment to privacy and consent is evident in how the company handles all user interactions.
The users who participated in Brevistay's dating app prank had consented and were fully aware that it was a joke. This was an essential aspect of the prank, as it ensured that users knew what they were signing up for and were comfortable with the terms. The company's commitment to privacy and consent is evident in how it handled this prank, as users were not misled and were free to participate or opt out as they saw fit.
Brevistay's stance on privacy and consent is a testament to its commitment to ensuring that users are safe and that their personal information is protected. Our recent prank with the dating app serves as a reminder that while finding a match can be fun, it's essential to be cautious and aware of who you're interacting with online.
Online Dating Safety and Reminders
Online dating can be a great way to meet new people, but like any other form of social interaction, it comes with its own set of benefits and risks. While online dating provides a convenient and accessible platform to meet potential partners, it is crucial to remain vigilant and prioritize safety and consent.
Benefits and Risks
Benefits of Online Dating:
Provides access to a larger pool of potential partners
Offers the opportunity to connect with people with similar interests and values
Allows for more convenient and efficient communication with potential partners
Can facilitate the development of meaningful relationships
May offer greater control over the dating process
Provides the ability to screen potential partners before meeting in person
Risks of Online Dating:
Increases the potential for dishonesty and misrepresentation
Can lead to unrealistic expectations and disappointment
May facilitate the development of superficial relationships
It can expose individuals to scams and fraud
May increase the risk of harassment or stalking
Can lead to addiction and other negative psychological consequences
Importance of Safety and Consent
Safety and consent are crucial elements of any dating experience, whether online or in person. Here are some reasons why safety and consent are essential to online dating:
Protecting physical and emotional well-being: Online dating can be risky, as individuals may not always be who they claim to be. Prioritizing safety and consent can help individuals protect their physical and emotional well-being by avoiding potentially dangerous situations.
Preventing harassment and abuse: Unfortunately, online dating can also lead to experiences of harassment, abuse, and even stalking. By prioritizing safety and consent, individuals can reduce their risk of being targeted by abusive or harmful individuals.
Ensuring mutual respect: Consent is an essential aspect of any healthy relationship, and it is imperative in online dating, where communication is often more impersonal. Prioritizing consent helps ensure that both parties are on the same page and that communication remains respectful and mutually enjoyable.
Reminders to Prioritize Safety and Consent in Online Interactions
Here are some reminders for individuals who are engaging in online dating and want to prioritize safety and consent in their interactions:
Get to know the person before meeting
Set boundaries and communicate them clearly
Always prioritize consent
Be cautious about sharing personal information
Trust your instincts
By prioritizing safety and consent in online dating, individuals can reduce their risk of harm and increase the likelihood of developing healthy and meaningful relationships.
As a hotel booking website, Brevistay remains an excellent choice for travelers looking for a seamless and comfortable stay. However, it's important to prioritize safety and consent when it comes to dating apps. Online dating can be a great way to meet new people, but users should always be cautious and aware of who they're interacting with. In short, use Brevistay for your hotel booking needs, but exercise caution when using dating apps.